The 'Samsung Electric Playground' invites festival attendees to unleash their inner child.
Samsung's Electric Playground invites guests into a celebration of light, sound and imagination powered by advanced mobile technology. With a multitude of experiences spanning an area over four basketball courts in size, festival goers can free their inner child and explore Galaxy S10-inspired attractions. These include a field of over 320 dynamic light poles, 23 of which will they can control directly; a 6.5-metre illuminated Infinity Slide; and an elevated view of picturesque Sydney Harbour from the Sky Walk platform amongst other must-see attractions. (*Read more link below)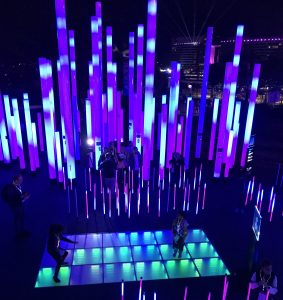 We have created an interactive way for guests to 'jump' through the Electric Playground with the popular game of Hopscotch.
o   An illuminated, interactive LED dance floor
o   When stepped on, tiles react with playful colours and effects
o   Guests can capture their moves at strategically placed Galaxy S10 photo stands surrounding the dance floor*
Samsung's Vice President of IT and Mobile Garry McGregor promises Samsung's activation will set a new standard for ambition, engagement and interaction: "The power of technology to open up new worlds through innovation is a constant source of inspiration for us. In returning for a second year to Vivid Sydney, we've challenged ourselves and harnessed the power of mobile technology to create not just a memorable cultural experience, but uniquely sharable and unlike anything festival goers will have ever seen before."
*Read more articles about the Samsung Electric Playground & our Energy Floors in the links below