Products
Human Power Products
Human Power Products in Sydney, Australia, such as the WeWatt bikes convert human movement into useable electricity with your country's plug point output, this can be used to charge laptops, phones or any device of your choice. WeWatt bikes can be likened to energy producing furniture.
They are handmade on demand production in the sheltered workplace Westlandia focusing on social inclusion of people with disabilities.
​
WeWatt bikes are made from mostly recycled materials with a goal to minimise environmental impact every way possible.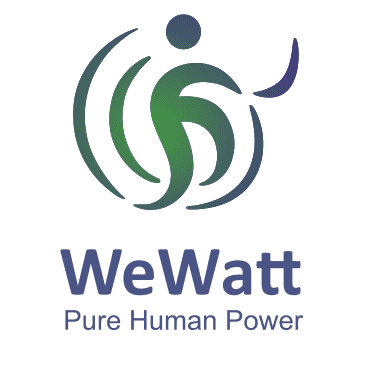 ~Nikola Tesla
"All people everywhere should have free energy sources"… "Electric Power is everywhere present in unlimited quantities and can drive the world's machinery without the need for coal, oil, or gas."

Our History
ENERGY GENERATING FLOORS
Kinetic flooring systems and plugins for events, exhibitions and public spaces.
Providing brand and activation experiences in a fun and interactive way – converting human movement (aka dancing) into electrical energy or power.
The floor tiles are largely produced using recycled materials and seen throughout the life cycle a floor is energy neutral.
The technology we use to convert kinetic energy into usable electricity is electromechanical. It was developed in 2007 and the first and most efficient to be put on the market.
​
Our partners of Delft and Eindhoven University of Technology investigated various options: piezo, thermoelectric conversion and hydraulic systems. An electromechanical system, which transforms small vertical movements into a rotating movement that drives a generator, turned out to be the best option.
​How do our energy floors work?
Our energy floor modules flex slightly when stepped on. Inside each module is an electromechanical system, which transforms the small vertical movement produced by dancing or walking people into a rotating movement that drives a generator. Each module by the size of 75x75x20 cm can produce up to 35 watt of sustained output, between 5-20 Watt per person. This video shows it all:

Our History
ENERGY GENERATING FITNESS
Our Energy Generating fitness range uses unique technology to offset energy consumption in your building or home. When plugged into a regular AC wall plug point, powered on and operated by the exercising user actually sends the created energy back to the grid via the plug point. 74% of energy created by the exerciser is reused as 'renewable energy' for the building.
The first question we're asked when talking about converting human movement into renewable energy is "why don't you do that for fitness equipment…? We all go to the gym, work our butts off and we actually have to pay for that energy when powered on"
Well that is a great question – and we do have a fitness range for exactly that reason.
​
Our fitness range harnesses the spent energy by the exerciser and recovers 74% of that to be sent back to the building's power grid to offset the present moment's consumption. For example, a runner is currently generating 200 watts of power during their treadmill routine. Using our treadmill, 148 watts (74%) of the runner's workout is sent back to the building's grid for energy savings.
​
Currently our range consists of 3 products; an energy generating treadmill, an energy generating spin bike & an energy generating cross trainer.
INTEGRATED & CUSTOMISABLE SOFTWARE
We create and integrate customer experience and brand activation software catered to your needs. This can be integrated within both WeWatt and Energy Floor products.
​