At Eco Renewable Energy, we want everyone to know and experience our 'digitally connected' culture. Through the use of human power in interactive and engaging innovations, you will be able to contribute to sustainable progression that we aspire to achieve.
Specifically, we capture the energy of a dance party to create a positive impact. Our floor systems convert kinetic energy from human movement to electricity, which can power the lighting, signage or interactive plugins. With these sustainably powered solar floor tiles, we are able to create unique, interactive energy experiences.
We develop and market smart and innovative floor systems that turn energy from pedestrians and solar energy to electricity. Other than detecting the movements and positions of pedestrians, dance floor tiles are used to supply LED lights, tracking consumer, and collecting data application. These smart energy floors can be integrated in pavements and high footfall areas. Other solutions include solar powered interactive floor tiles to create energy & engage pedestrians or even provide interactive games for children.
Interactive
Every footstep or dance moves on one of our floor systems generates electrical energy. With this energy we power plugins that show the direct output of people's moves. Innovative
Patented technology was developed in 2007 together with Delft and Eindhoven Universities of Technology. It was the first one to be put on the market and is still the most efficient.
Sustainable
Our floors turn energy consumers into energy producers, just by stepping on them. They raise awareness on renewable energy and help people adopt a sustainable lifestyle.
THE DANCER – EVENTS & BRAND ACTIVATIONS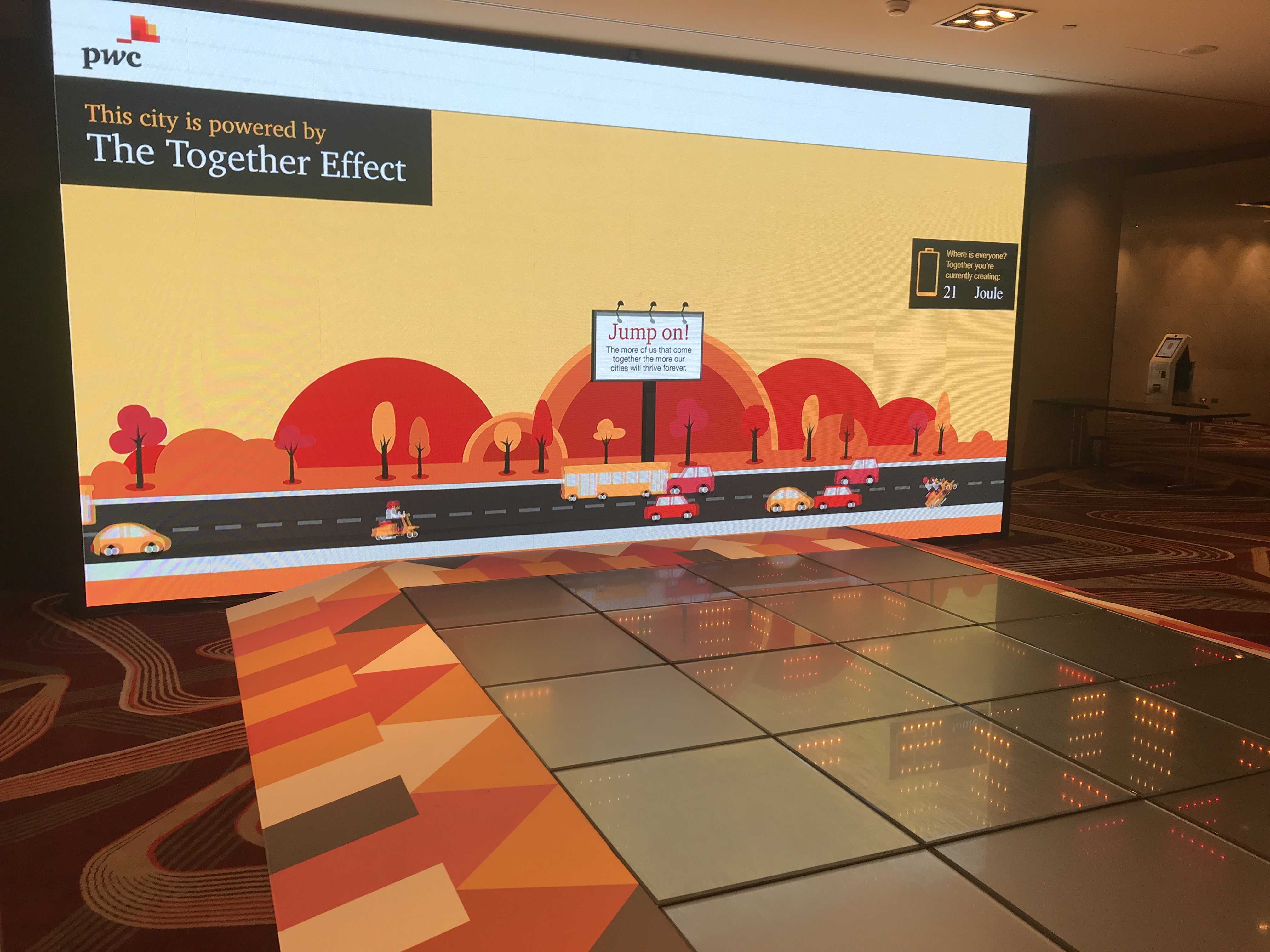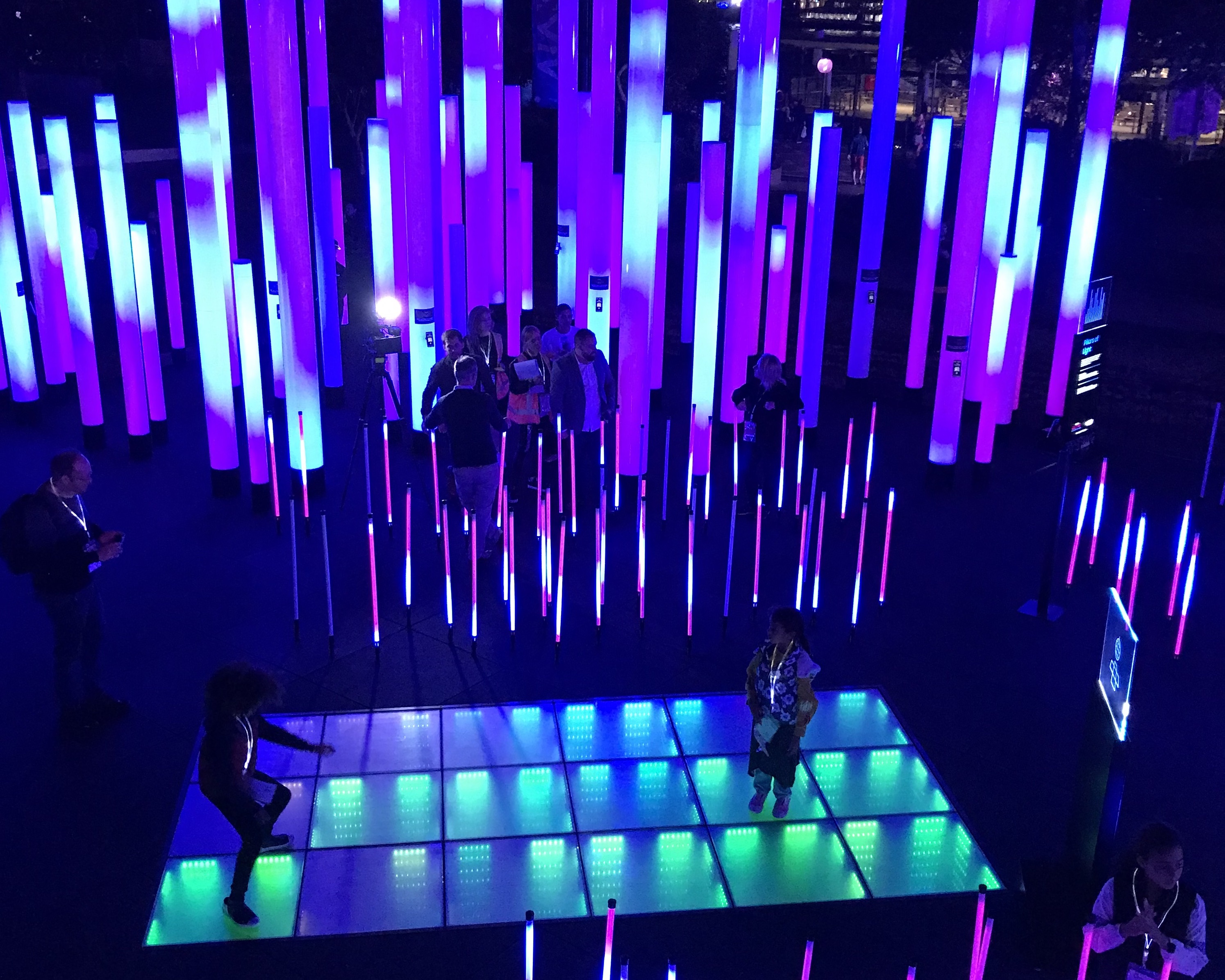 Through the advancement of our technologies, Eco Renewable Energy aims to help you with your events and brand activations in an eco-friendly way. Our solar floor tiles focus on developing smart products while reducing carbon emissions.
The dance floor tiles use human movement as a source of energy. The kinetic energy is converted into electricity, which powers the floor's LED lights. The floor interacts with the public and involves them in an interactive energy experience. The generated electricity can be used to power one of our Energy Plugins, like our digital energy meter or even the sound system. Another possibility is to power your own customized brand experience with the generated electricity on the dance floor.
The Sustainable Floor can be installed in different shapes and for various occasions all around the world. Projects range from major sports events, festivals, product launches, corporate events and pavilions, to club tours, trade fairs, science centre exhibitions and auto shows.
Fun, innovative & sustainable!
We have a track record of producing brand activations worldwide and worked with many different creative agencies to activate campaigns for many well-known agencies and brands.  We have challenged them to make use of the power of our technology in creating a memorable and uniquely shareable cultural experience.
Eco Renewable Energy's smart energy floors will definitely kickstart every member of the group's engagement in all your activities and events. Jump through our energy floors now and generate a sustainable power!
The Walker & The Gamer – Permanent Installations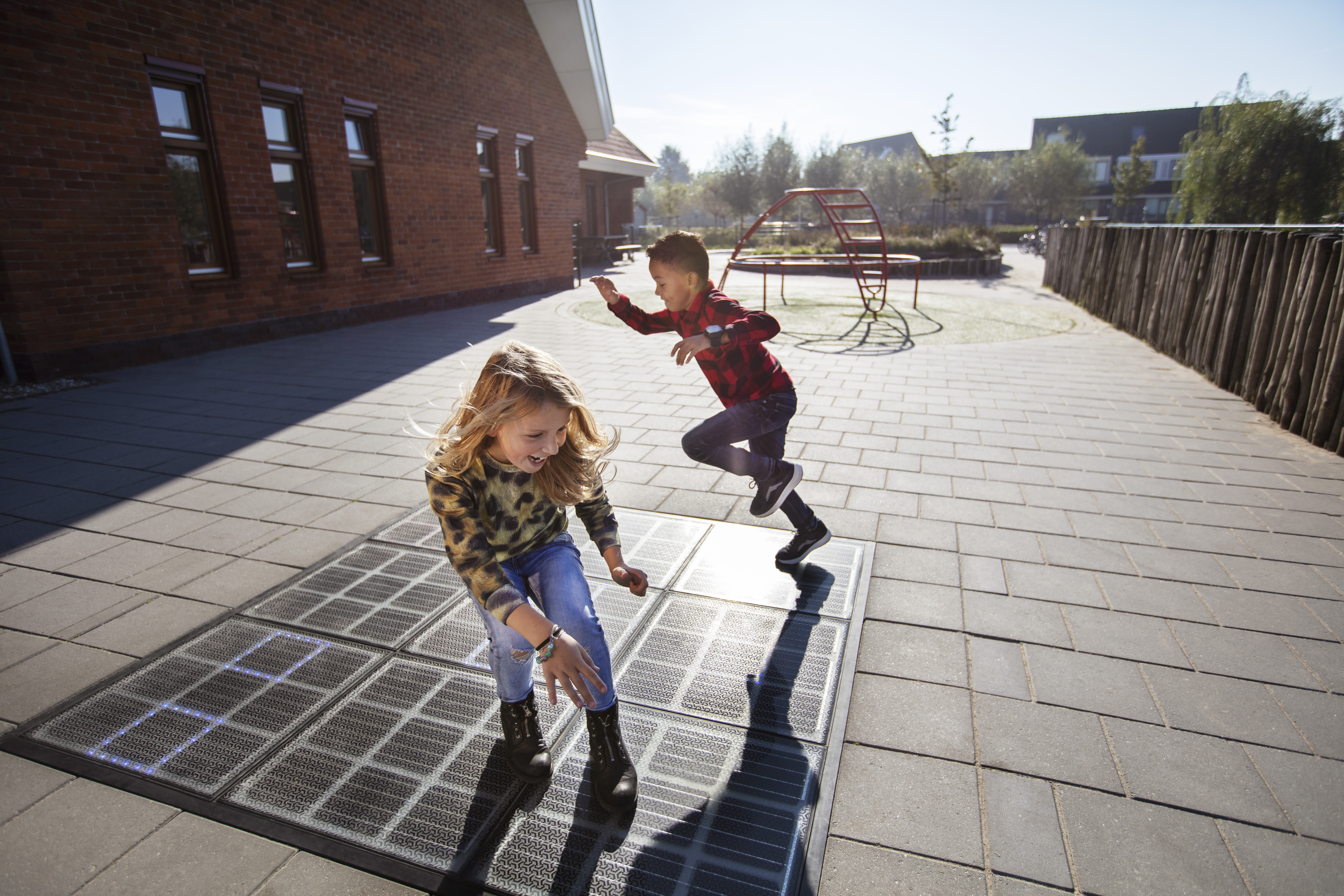 The Walker: Smart Energy Floors powered by solar top sheets
The Smart Energy Floor engages people in the built environment in sustainable energy generation. The tiles of this smart floor are equipped with walkable solar panels, converting solar power to sustainable energy. Motion sensors collect data about pedestrian movement across installation sites.
The Smart Energy Floor is a solar floor (i.e. not kinetic). Its only energy source is solar power, which is converted by walkable solar top sheets. These PV panels generate a significant energy output with an efficiency rating of two-third of regular PV panels: 35 Watt per tile. This generated electricity is fed into local grids.
Interactive energy floor
The smart energy floor is interactive: it powers LED lighting and signage, which helps making the abstract matter of sustainable energy creation more tangible and approachable. This way we aim to raise awareness and contribute to the worldwide energy transition.
The smart floor tiles are largely produced using recycled materials. Seen throughout the life cycle (10 years) a floor is energy neutral.
Smart floor
What makes this energy floor a smart floor? Motion sensors in the tiles collect data about movement behaviour in areas where the Smart Energy Floor is installed. Based on this data the floor's functionality can be adjusted to user behaviour. For instance: it can be bikepath by day, and illuminated footpath at night.
Different markets, different propositions
Right now, we are focusing on two target markets with the Smart Energy Floor: educational institutions and (local) governments. The two solutions we have developed for these markets are:
– the Gamer
– the Walker
The Gamer is designed for installation in school playgrounds. It consists of 9 Smart Energy Floor tiles (3×3) and encourages young children to play interactive games, while educating about sustainable energy.
The Walker is developed for installation in (smart) city squares and pavements, airports and railway stations. It consists of 16 Smart Energy Floor tiles and focuses on engaging pedestrians in generating sustainable energy.
The Gamer: Smart Energy Floors powered by solar top sheets.
The Gamer is a smart energy floor that encourages active learning on school playgrounds. The floor challenges young children to play energetic games and learn about renewables at the same time.
Looking for a way to integrate sustainability education into your school; into both the curriculum, and the playground? Encourage children to learn how to use energy resources responsibly, in a fun way, that sparks their imagination and provides valuable physical exercise, by letting them learn and play, on the Gamer.
The Gamer: how does it work?
The Gamer consists of 9 walkable solar tiles and 1 kinetic tile. All tiles are equipped with sensored LED lights, that challenge children to play on them. To activate a game they need to step on the kinetic tile. The games encourage physical exercise, whilst the tiles convert solar power into electrical energy.
This energy contributes power to the schools energy management system.This energy flow is visualized by us on a dedicated password protected website, which you can show on any screen inside the school building.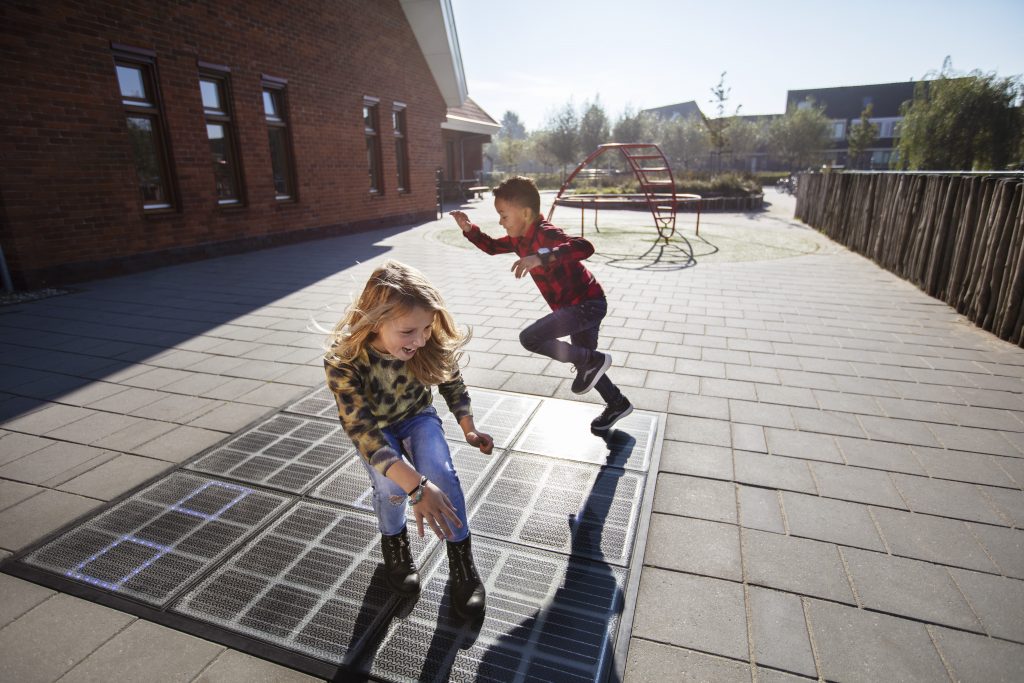 A powerful solution for your school!
The Gamer provides a practical, visual insight into the topic of sustainability and aids comprehension of an abstract matter. Want to boost the energy level of your school? Actively engage your students in producing renewable energy, whilst simultaneously stimulating physical exercise and creating tangible environmental impact, together. A unique (and fun) tool for understanding sustainability.
Specifications
Dimensions
600mm wide
600mm depth
122mm height
Materials
Glass top sheet with integrated solar panels and LED lights in an aluminium frame
Output: 35 Wp per module
Interactive Plugins
With our Energy Floor Plugins we visualize the amount of energy generated on our floor modules. Together with the floor, the plugins form the interactive energy experience we offer to our clients. There are several plugins to choose from.
​
Digital Energy Meter
The Digital Energy Meter shows the instantaneous power (watt) and the total power produced (joules or watt x seconds) on our Energy Floors. This information is shown on a large LED screen. The design of the Digital Energy Meter can be fully customized according to the clients wishes.
​
LED battery
A 2,5 meter high LED battery visualizing the amount of energy produced by the dancing crowd on the Sustainable Dance Floor. This energy floor plugin has great visual impact. The LED battery can be used to create a climax in a large dancing crowd or to attract visitors to a booth or location where the floor is installed.
​
Energy Tower
The Energy Tower is a 2 meter high tower filled with LEDs to visualize the amount of energy produced on the dance floor. The LEDs visually fill up with energy while the audience is dancing. With the accompanied software an upper threshold can be set to determine the maximum level. The meter is divided into five different levels (0, 25, 50, 75 and 100% ).
​
​
​
Other Interactive Plugins
Photo App
The Photo App takes a photo of the dancing crowd, once the Digital Energy Meter, the LED battery or Energy Tower reaches 100%. This photo is immediately shown on the LED screen of the Digital Energy Meter, and can be printed on the spot or uploaded to social media. The Photo App plugin can also be used in combination with a Red Button integrated in the DJ booth, which will be hit by the DJ when a maximum amount of energy is reached.
​
Energy Battle
During the Energy Battle the dancing crowd is divided into 2 teams, and both have to dance like crazy to generate as much electricity as possible. Either the first team that generates a certain amount of energy wins the battle, or the team that generates most energy in a certain amount of time takes home the prize. Either way, the total amount of energy generated by both groups is measured and shown on a screen. The battle can also be played in sequence, with the highest individual score displayed on the screen.
​
Energy Quiz
The Energy Quiz is another gaming plugin high on entertainment and educational value. Multiple choice questions are displayed on a screen and the floor modules are divided into 4 colours. Each colour represents one of the multiple choice answers on the screen. Participants jump on what they think is the right colour and if they're right, energy is generated. The participant that generates most energy by jumping on the correct answers is the lucky winner of the quiz.
The Dancer - Container Club
Our Container Club is an all-in-one sustainable event solution.
This off-the-grid mini-club, built in a 20ft refurbished shipping container featuring dj booth, light and sound, is powered by 5 solar panels and 24 energy generating dance floor tiles.
The Container Club offers visitors a unique energy efficiency experience: all it needs to operate is dancing people (and some sunshine). This turns the club into a fun and educational tool to make energy efficiency tangible. We can make it fit easily into your campaign or tour: large LED walls in- and outside the club display your customised content, so your message will be delivered properly.
No plug, just play
The energy generated by the solar panels and dance floor is collected in 2 Hybrid Home 3kW accu packs. They're placed centrally in the club for everyone to see, so no secrets there! Obviously the Container Club is easy to transport, which makes it perfectly suitable to use on a tour. Installation isn't complicated either: no plug, just play.
​​
Specifications
Amount of solar panels: 5
Energy output solar panels: 320W each
Amount of Sustainable Dance Floor tiles: 24
Energy output Sustainable Dance Floor: 120W – 600W
Energy collected in 2 x Hybrid Home 3kW
Rated power: 3000W, efficiency DC to AC 92%
Dimensions container: 6058 mm x 2438 mm x 2896 mm
Total surface area container: 34 m2
Dance floor area: 30 m2
Click here for more info on our partner